We have curricula, lesson plans, activities, supporting materials, DVDs, videos, and games used by K-12, colleges, universities, DOLs, career centers, AHECs and many other organizations throughout the U.S.  Our products are available for purchase online or you may complete the order form  and send via email or fax (229.888.5154).

Fast Forward to Your Future
10013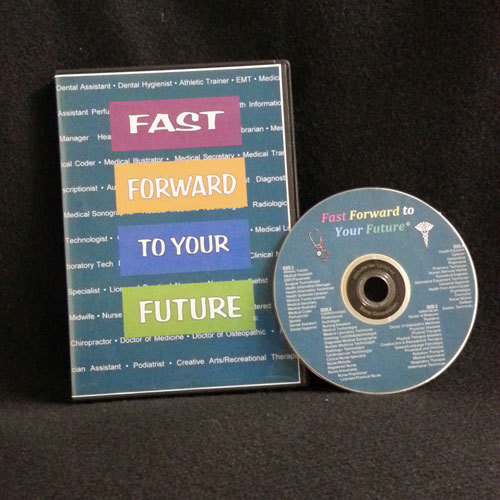 Fast Forward to Your Future, a DVD with 4 series, was designed to be used in conjunction with the high school health careers curriculum or as a tool to counsel students searching for career options. Two lively characters host each clever, colorful, fast-moving series. Viewing time per series will vary from 21-25 minutes.
Careers covered in the DVD:
Athletic Trainer
Audiologist
Biomedical Engineer
Biomedical Equipment Tech
Cardiovascular Technologist
Chiropractor
Clinical Laboratory Techinician
Clinical Nurse Specialist
Counselor
Creative Arts/Recreational Therapist
Cytotechnologist
Dental Assistant
Dental Hygienist
Dentist
Diagnostic Medical Sonographer
Dietetic Technician
Dietitian
Doctor of Medicine
Doctor of Osteopathy
Emergency Medical Technician (EMT)
Health Care Administrator
Health Educator
Health Information Manager
Health Information Tech
Health Sciences Librarian
Histology Technician
Human Services Worker
Industrial Hygienist
Licensed Practical Nurse
Medical Assistant
Medical Coder
Medical Dosimetrist
Medical Illustrator
Medical Secretary
Medical Technologist
Medical Transcriptionist
Nuclear Medicine Technologist
Nurse Anesthetist
Nurse Practitioner
Nurse-Midwife
Nursing Assistant
Occupational Therapist
Occupational Therapy Asst
Optician
Optometrist
Perfusionist
Pharmacist
Pharmacy Technician
Phlebotomist
Physical Therapist
Physical Therapy Asst
Physician Assistant
Podiatrist
Prosthetist/Orthotist
Psychologist
Radiation Therapist
Radiologic Technologist
Registered Nurse
Respiratory Therapist
Social Worker
Speech/Language Pathologist
Surgical Technologist
Veterinarian
Veterinary Technician